Tamara Oniani
UX designer
Vibration Prediction Tool
Dyno Nobel's effort to keep communities safe and happy.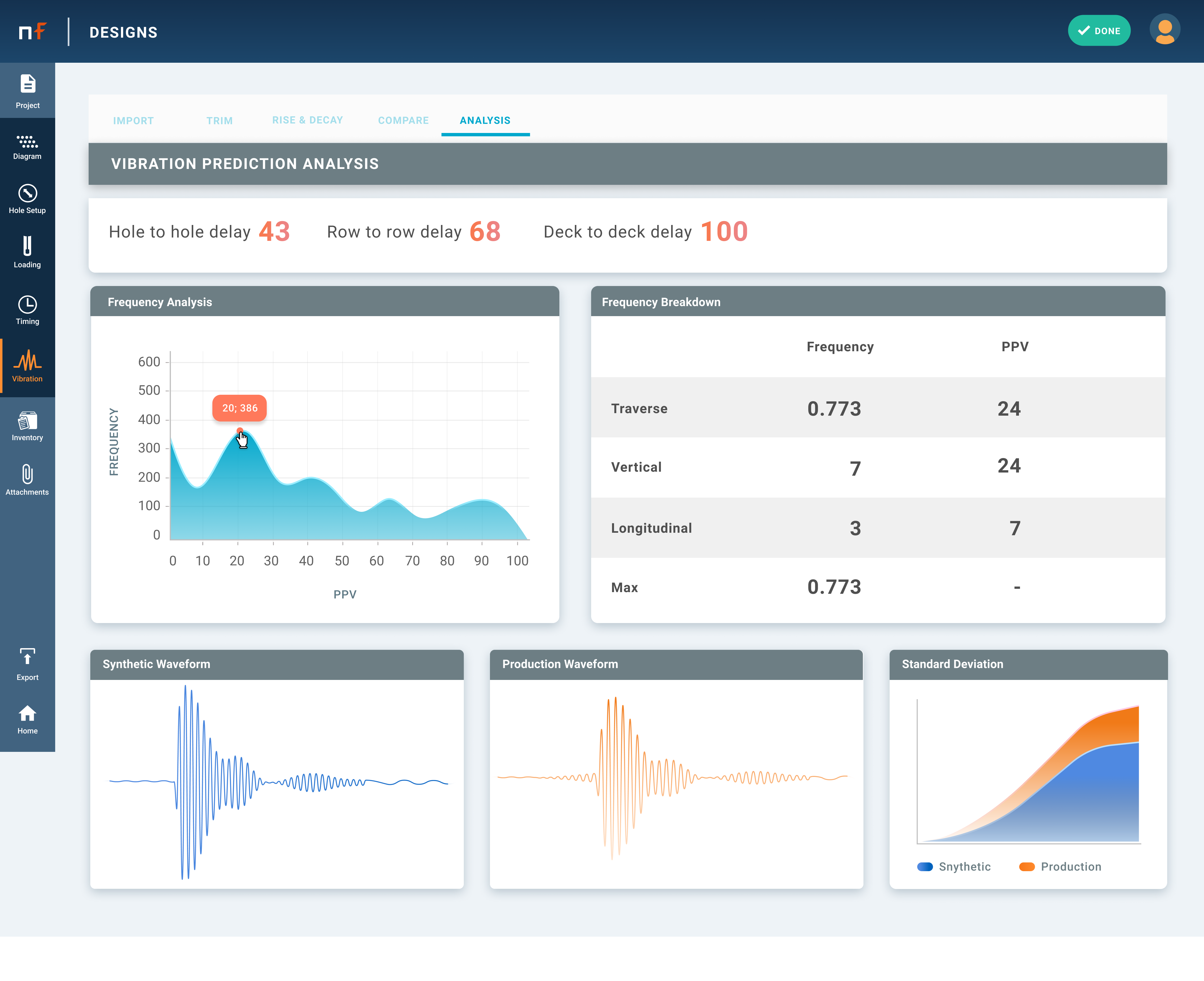 Background
Vibration analysis is a practice of comparing existing data on ground vibration produced by explosions in the field to the amount of product and the timing sequences used in a hole pattern. We do this to optimize the product used in blasts and ensure that explosions have the least impact possible on the environment and surrounding communities.
Problem: Currently vibration analysis is done using multiple different softwares and is extremely time consuming and not very accurate.
How might we: Streamline the vibration prediction experience to save time and effort as well as make the prediction as precise as possible.

Project Overview
Goal: Simplify the vibration analysis experience by integrating the parts of Dyno42 and SignaShot into our existing platform that already provides necessary timing features for predicting vibration.
Out team: I worked with UX designers, product owners, developers and stakeholders.
Method: We followed Google Ventures design sprint method of discovery and feature definition. We conducted 2 days of hybrid in person and virtual workshops where some of us got together in the office to collaborate while others joined via Teams and Miro.

Current User Flow
My favorite way to understand how systems work is to map them out. As our stakeholders were walking us through their current workflow using two softwares I was simultaneously creating a user flow to create the shared understanding between everyone involved in the project. Once I was done with the process I presented it to the team and asked for feedback. My team helped me adjust and add steps that I had originally missed.

Task Rating
After having our users walk us through a typical flow, we asked them to rate each task by difficulty. Then I created a matrix to visually show the experience.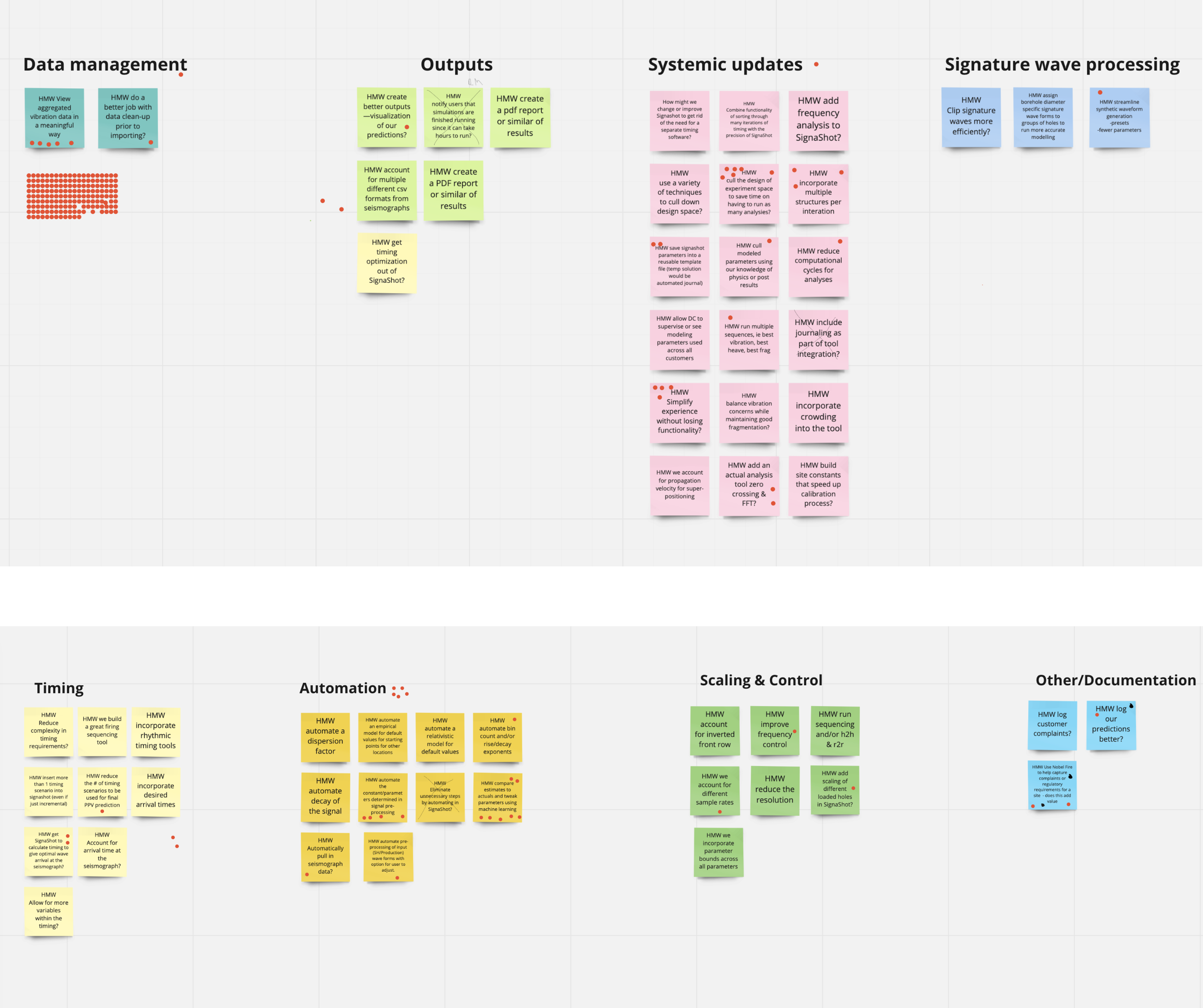 How Might We...
As a next step we as a team came up with how might we questions to brainstorm possible solutions to previously discussed pain points. Then I organized these questions into 8 categories: Data management, Outputs, Systemic Updates, Signature Wave Processing, Timing, Automation, Scaling & control and other. This made the ideas more digestible and allowed us to proceed with dot voting. As a team we voted on the most crucial issues that we needed to address first.

Integrated User Flow
After discussing the current app shortcomings I created a simplified user flow that is the result of integrating the current process with our primary blasting software – Nobel Fire.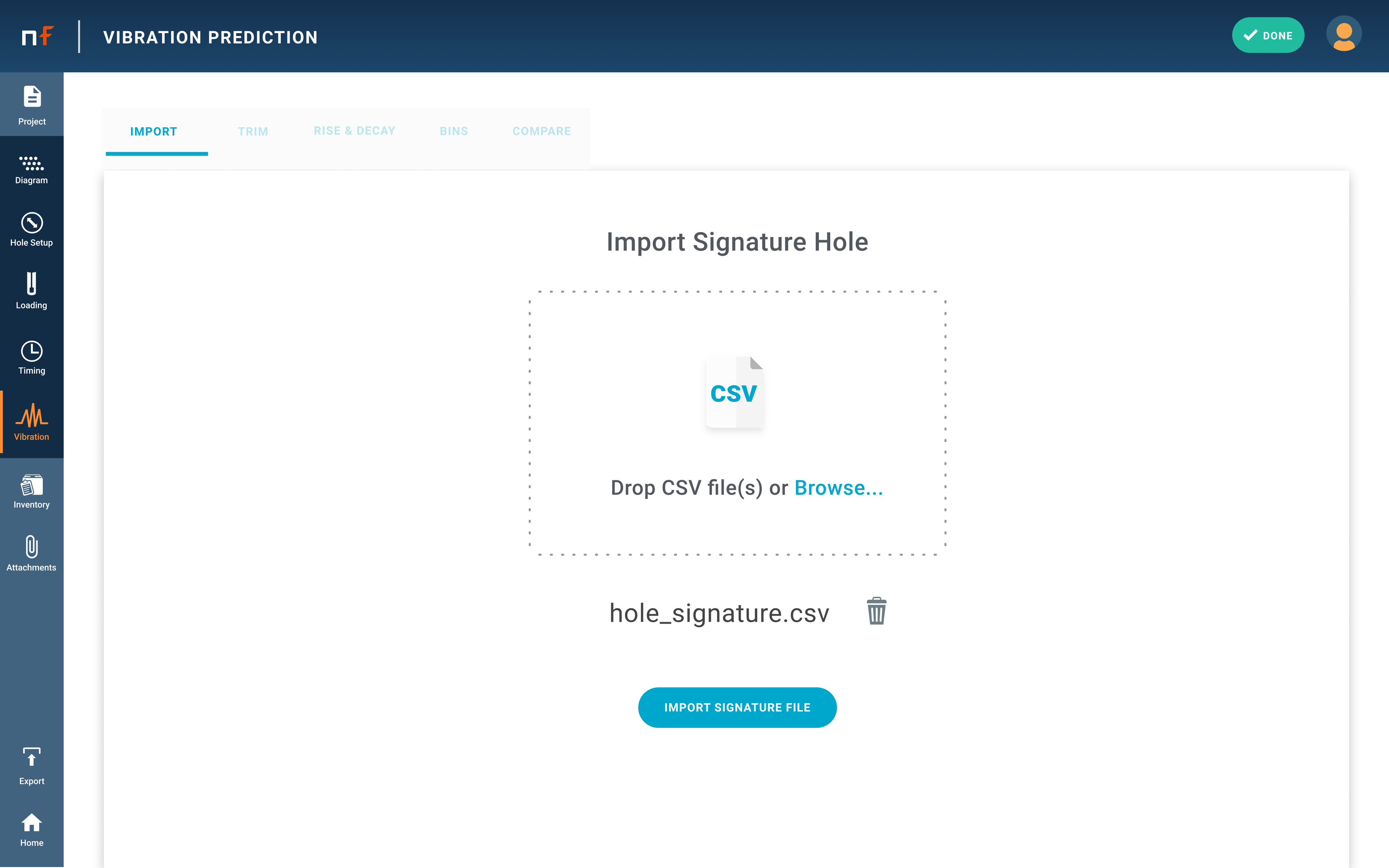 Path 1. Importing a data file
User may import their CSV file to run vibration prediction.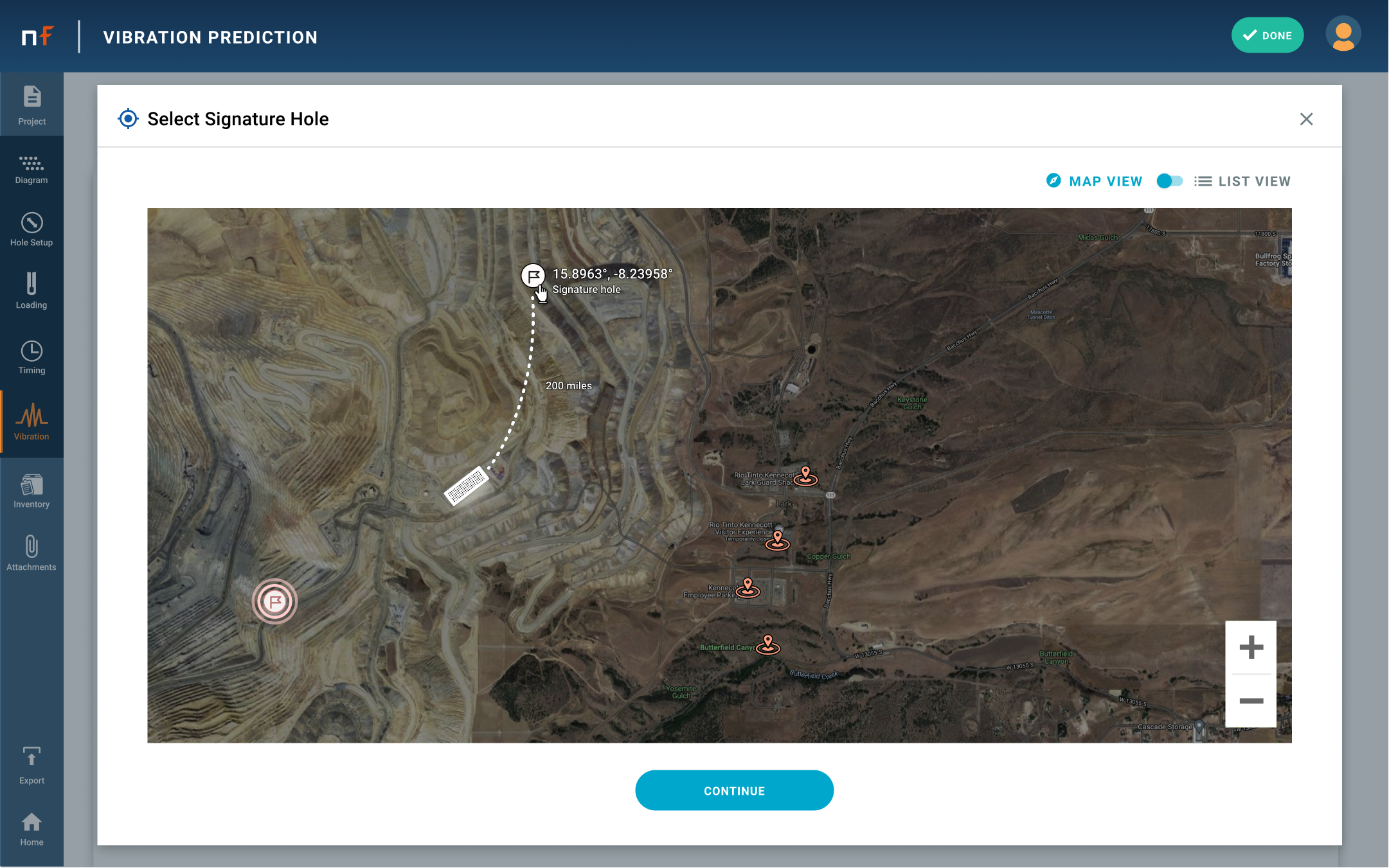 Path 2. retrieving data from the system
User may also use a preexisting data saved in the Nobel Fire system.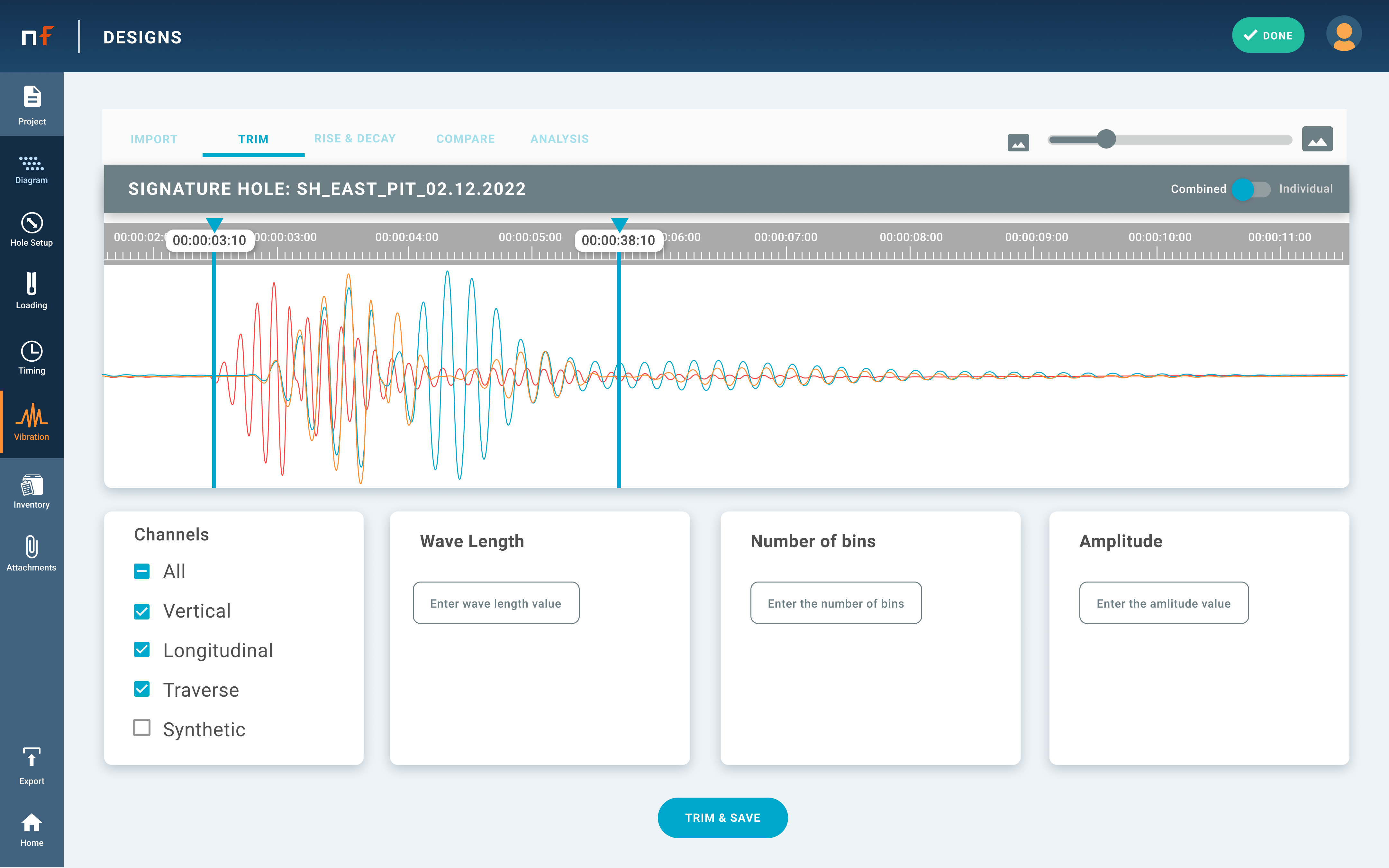 Trimming the waveform
User Trims the waveforms to get more precise vibration information by eliminating noise.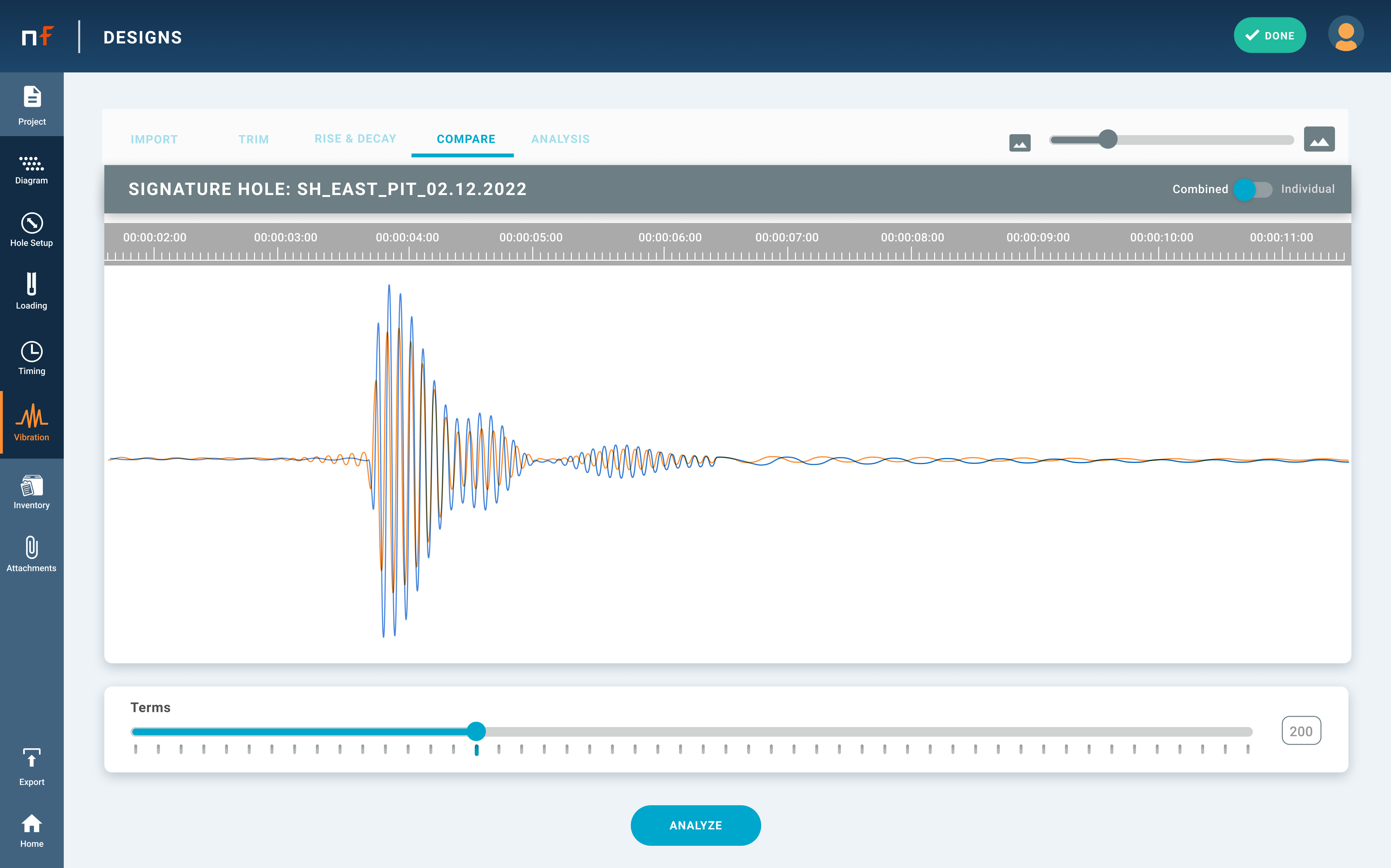 Comparing two waveforms
User compares the generated waveform to the preexisting data.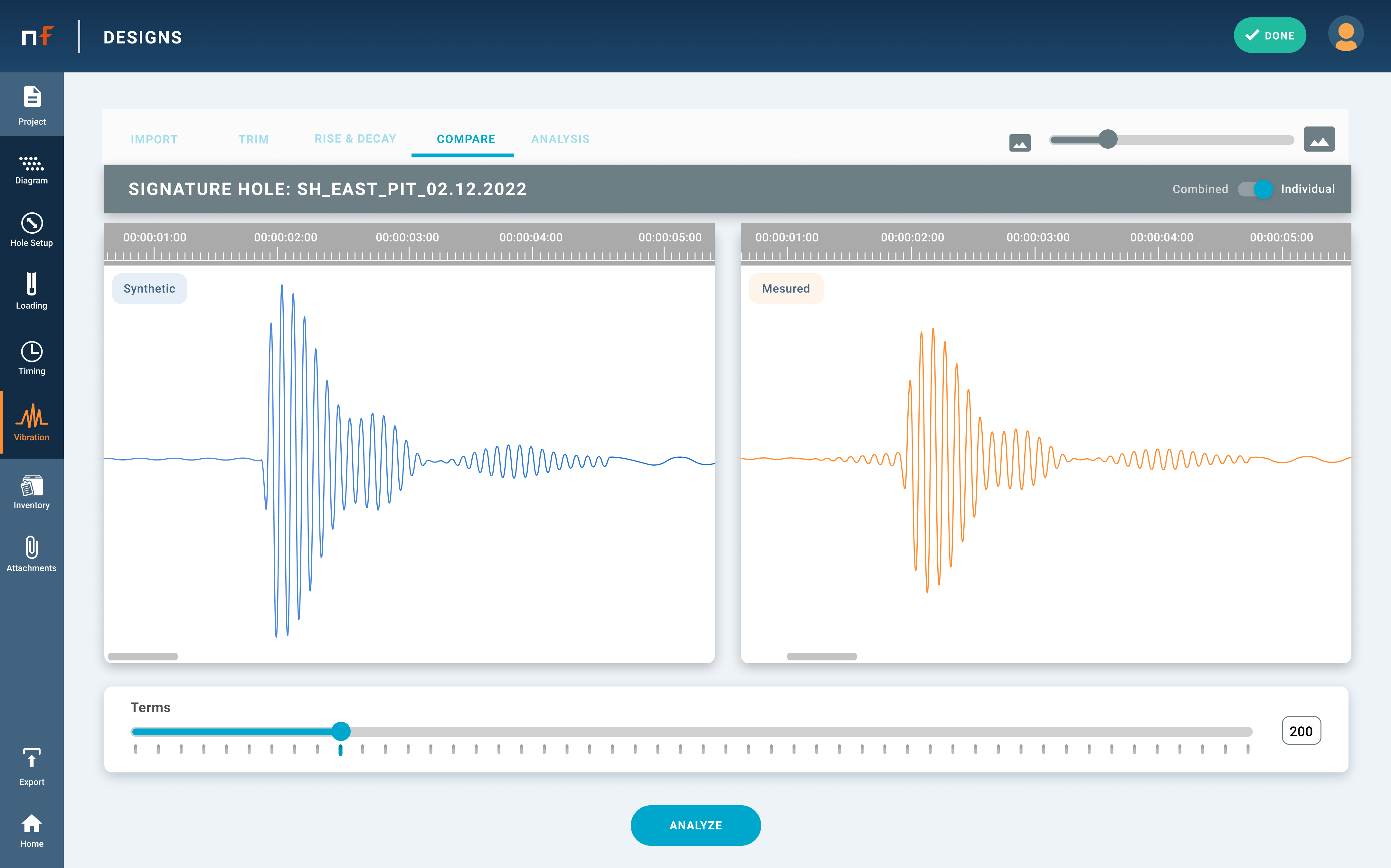 Side by side comparison
SIde-by-side comparison of two waveforms is another option that can be toggled on.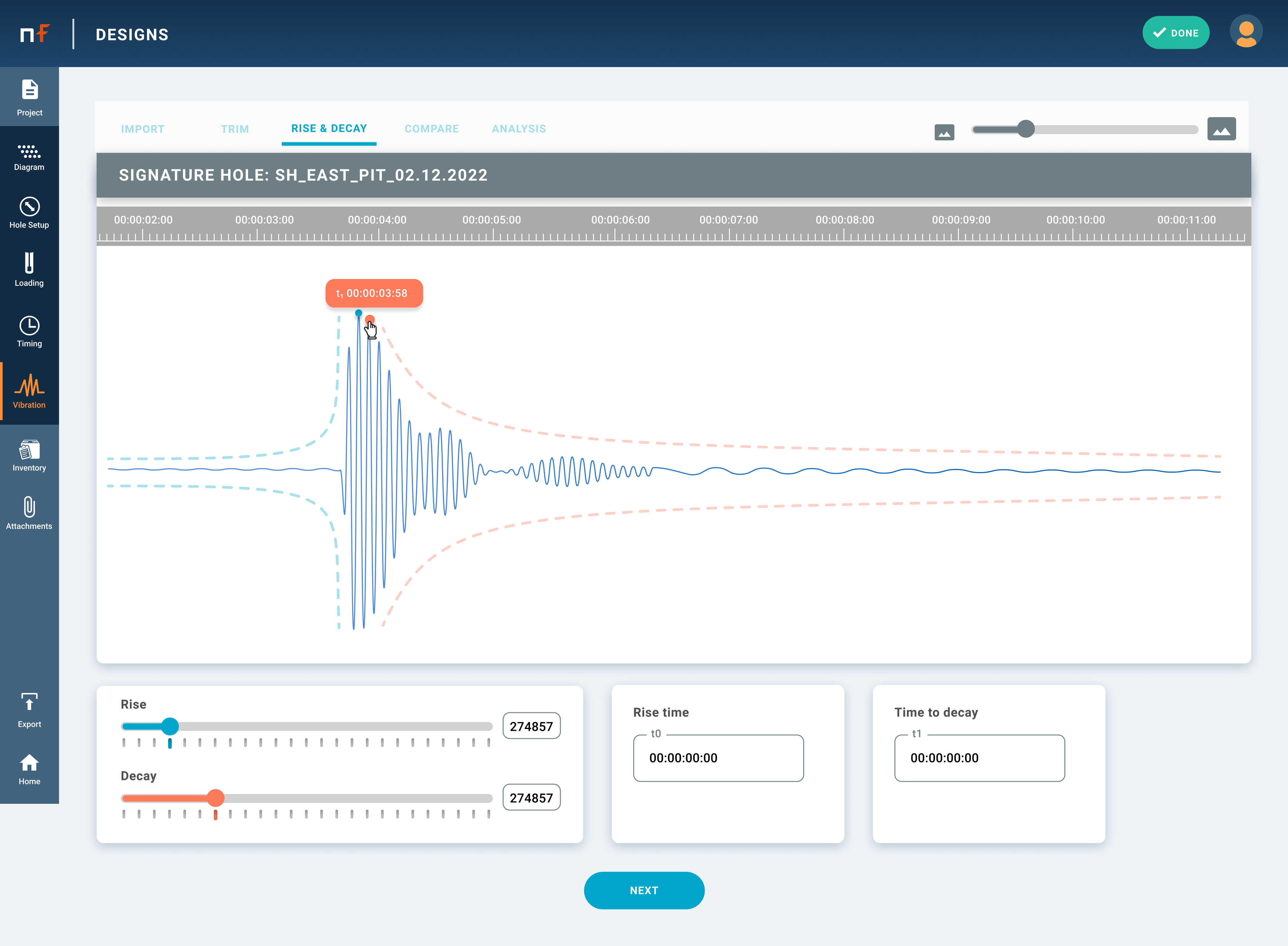 Looking at Rise & Decay Times
User looks at the peak point of rise and the beginning of decay in the waveform.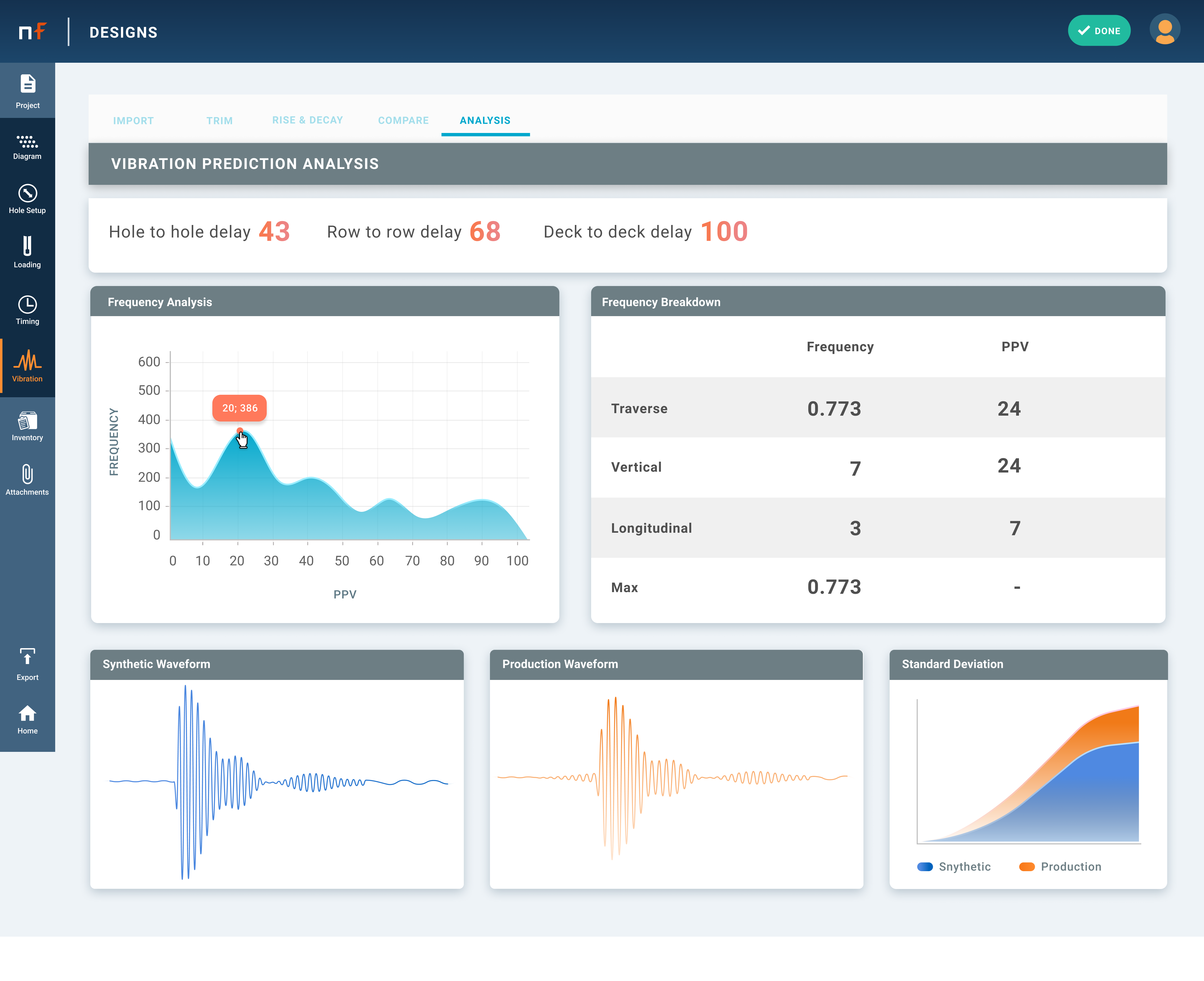 Results
Once processing is done user is brought to an analysis dashboard that summarizes the process. User may navigate back to any of the previous steps using tabs and adjust parameters to get different results.
Next Steps...
This project is still in the architecture review/Initial concept phase. I'm working on fleshing out the experience while our information architect is working closely with our vibration expert to gather more insight. We have weekly meetings with our stakeholder to discuss progress and learn more.